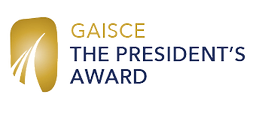 Gaisce – The President's Award is the most prestigious Award in Ireland for young people aged 15 to 25.
​The Award is a self-directed personal development programme in which participants are supported and mentored by a more experienced person, a volunteer, a President's Award Leader (PAL), to set and achieve a personal challenge over a period of time.
Gaisce is an old Irish word which means 'a great achievement'.
Gaisce is a long running institution within St. Fintan's High School. Each year, a large number of Transition Year students undertake Ireland's national challenge award through the school. They undertake four challenges throughout the year, these include:
The students who undertake this challenge are awarded their bronze Gaisce award (President's award) at the end of Transition Year.
The adventure journey attached to the award is one of the main highlights of transition year.
Many students will progress on to achieve the silver and even gold award which is a highly celebrated event. The award motivates and encourages students to grow as a person and as a member of the wider community.